after completing a bachelor's degree in computer science at the technion, 32-year-old anat nachmani, who is married and has one child, launched her professional career as a c and ada software developer at elbit systems. she was exposed to java at amdocs, where she went through a web-development training program. after four years she decided to find a new job and started sending out her resume. three months ago anat found her job as a java developer at traiana via the jobnet site.
why did you decide to look for a new job after four years at a large high-tech firm?
"i felt i had maximized by professional development at my prior job. i didn't see any professional horizon, so i decided to look for a more intimate workplace where i'd be able to optimally bring out my abilities and i'd have opportunities for growth and advancement."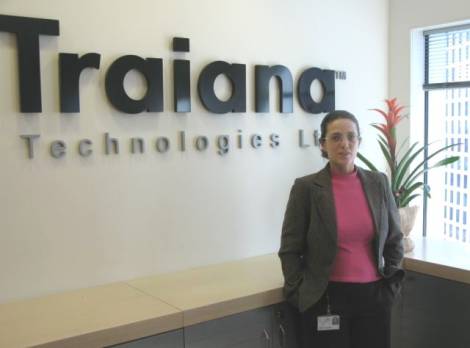 anat nachmani at the traiana company offices
how did you conduct your search?
"first, i tried to send out my resume to every place possible, from personnel companies and friends to daily searches on various job-search websites. with years of experience in programming i applied for senior programming positions requiring at least five years'
experience, in a relatively small workplace with a fascinating content world. i looked for a job where the volume of work would be broad and varied. toward the end of my maternity leave i started sending out resumes. i didn't compromise, but looked for a quality position where i'd be able to stay for a long period of time."
what drew you to java?
"without a doubt it was the broad range and the relevance of java that led me to continue and to develop expertise in it. the web world is varied, allowing involvement in many sub-fields, from basic programming to dealing with many and varied technologies."
what was the response from the companies like? did you look into other options besides traiana?
"unfortunately, by the time i'd started looking for work rumors of the current economic crisis were already circulating and there was a general sense recruitment had been frozen; the response i got at first was excellent, but faded quickly. before i accepted the job at traiana i had a few job offers in hand."
why did you wind up choosing traiana?
"the recruitment process at traiana was handled quickly and professionally. i was very impressed by the company managers, the employees and the product they are developing. during my interviews with the team leaders and the development manager i encountered a high level of professionalism and a company with big plans for the future and a promising financial product. most of all it was my gut feeling that made me choose traiana since the differences from one job to the next and from one workplace to the next were insubstantial, but my intuition affected my decision."
how were you taken in at traiana during the first few days?
"i was received with a ready workstation, a bouquet of flowers and a box of chocolates. for the first two weeks i was mentored by the team leader, who introduced me to various aspects of application and let me try it out freely. my development team is in the process of growing and it currently numbers 10 programmers."
what kind of a company is traiana in terms of the atmosphere and the character of the company?
"traiana is a company where the atmosphere is tight-knit and warm. although it's no longer considered a small company, there's a very intimate feeling i hadn't experienced previously. everybody knows everybody else, the work gets done in a calm and pleasant atmosphere and the workers are very important to the company. i'm glad i got hired at a company that invests in its employees professionally and as individuals, and enables them to advance."
what's your impression of the company?
"i have a very good impression, both from a professional angle – i've encountered outstanding people in their fields – and in terms of the atmosphere and treatment. it's pleasant to come to work in the morning and to work. all your needs are taken care of. i also have a good impression in terms of how the company is run –you get the sense the managers behind the company know how to lead it to new and good places."
do you feel you've come to the right place and do you see yourself at traiana over the long term?
"definitely. three months is not a long time, but i've already learned a lot and i definitely expect to stay. it's a small company and promising in terms of the product development. i have challenges to tackle all the time and feel that i'm constantly learning. also i work alongside professional programmers who are really great people, and enjoy the work environment."
do you have any advice for jobseekers?
"first of all, not to give up. as somebody who has already coped with job-hunting during the previous economic crisis, it's important to note that if you persevere, you'll find work. you have to go a bit beyond your normal bounds and try to reach companies any way possible.
the other piece of advice i can give is to study thoroughly for interviews. during periods of economic crisis the competition is stiffer, so it's a good idea to come prepared for any question, to know how to clearly describe what you've done up until now and to know how to enumerate the advantages you have to offer over other candidates in the market."
human resources manager michal hershtein, to what extent does your collaboration with the jobnet site contribute to your company?
"jobnet is the main site we work with. through the site we receive focused, quality resumes. as proof, over the past year and a half we've filled 10 positions through jobnet, including complex positions that are hard to recruit for."
what are the company's fields of enterprise?
"traiana, which was founded in the year 2000, develops and markets technology solutions for the financial market. our main clients are international banking and financial institutions that are among the largest in the world. we number 150 employees located at several sites: the administrative offices in manhattan, the development center in tel aviv and the sales office in london. recently we were sold to british corporation icap, which was their first purchase in israel. we're currently in a massive process of staff recruitment following several cooperative agreements that came about through the acquisition. for instance, we currently need java experts."
for an article describing this position, click here.

for more success stories, click on employment articles
looking for work? go to search

looking for employees? go to contact

join everybody's success at jobnet!


for the hebrew article