following his bachelor degree studies in industrial management specializing in information systems, 32-year-old gil zilberman encountered a period of recession. with a lot of patience he got hired at a large financial institution. after four years as a systems analyst and project manager in the field of finance, during which he was promoted to finance manager and tried his hand managing company-wide projects, gil felt unsatisfied and decided to leave.
five months ago gil found his job as bi project manager at opisoft ltd. through the jobnet site.
what led you to decide to leave after four years of working at a large company and holding a ranking position?
"at my prior job i worked as a project manager. my primary task was to handle the process aspects of the project. i was involved more in characterization and function as opposed to the technological side of information systems, and didn't have a chance to get down to the code level with the [software] developers. i wanted to work with databases and evaluate from above how the project is working out at the implementation-development phase of the systems."
how did you conduct your job search?
"while continuing to work at my previous job i sent out resumes at a moderate pace, focusing on jobnet because it's accessible, convenient and includes companies from all parts of the country. i also distributed resumes among my friends and to a variety of placement companies. i was called in for an average of one interview per week. the job of project manager at opisoft hit me like lightning out of a clear blue sky."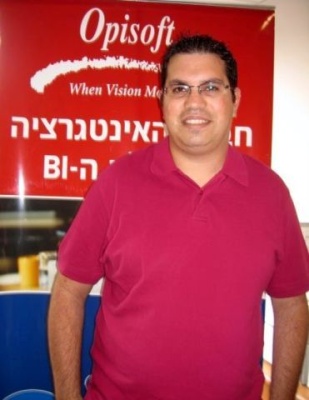 gil zilberman at the offices of opisoft ltd.
which considerations did you take into account?
"i was looking for project management jobs in the field of information systems, while stressing my specialization in technology in my resume. i also sent resumes to stable high-tech and communications companies near where i lived. since i had spent four years working with financial institutions, i looked for organizations with a different type of contents and a different way of operating. i didn't compromise, but waited patiently until i'd found a job profile that matched my demands precisely."
how did the organization go about the screening process?
"the process was short and not exhausting. although i had no experience in bi the interviewers didn't see that as a handicap, but focused instead on the management experience i'd acquired. i was also told i'd be able to undergo an orderly breaking-in and training period, and take up the reins gradually, until i was able to lead a bi project. after a personal interview i was interviewed by my immediate supervisor, amit barak, followed by another interview with amit meidan, the vice president of business technology projects. we got along well and at the end of the meeting i'd made up my mind opisoft was the place for me."
what was it about opisoft that captivated you?
"when i caught sight of the job profile i saw it as a golden opportunity since it would allow me to combine my abilities and experience in project management with technology. i also realized from my previous job that this is becoming a central field at every organization. today 50% of projects are related to databases, so the world is advancing in a direction that has both a commercial side and a technological side. i was also very impressed by the fact ofisoft focuses on bi and is an industry leader."
assistant ceo yaron ariel describes the fields of enterprise at opisoft:
"opisoft was founded in 1991 and since then has led the israeli business intelligence market. the term bi denotes a type of information system designed to present the organization's decision-makers with information that allows them to reach wise business decisions, assess risks and set managing strategies. today opisoft employs 180 experts with specialization in business intelligence and the environment that supports it. the company cooperates with all of the bi solutions manufacturers and at the same time offers customers a creative and innovate approach that brings together all of today's available information. to deal with today's competitive, dynamic and complex environment, opisoft offers its clients a solution optimally matched to the client's needs."
which customers do you work with?
"our clients are enterprise customer, i.e. very large organizations from various sectors in the market. company clients include comverse, the idf chief medical officer's command, teva, alvarion and menorah insurance."
to what extent does your collaboration with jobnet contribute to you?
"the jobnet site is considered our main source for employee recruitment since it's known among many jobseekers and organizations. the resumes we receive through the site are precise, unique and high-caliber, which saves us on recruitment costs."
gil, how long did it take you to enter the job?
"the integration process was very quick, lasting just a few days. when i first got started, after receiving a cell-phone and a company car, i joined my immediate supervisor, amit barak, who guided me in preparing for projects. i went through a constant, breaking-in period through projects that were in their initial stages. i sat with him during meetings with clients and took an active role in leading them."
which projects are you involved in?
"during the first few months i worked with one of the government ministries on a complex project in which i was asked to characterize a performance management system, but at this stage the project has yet to go into implementation. during the course of the work i learned a whole lot from amit, who has been working in the field for years and has a lot of experience. today i'm working on a complex project at a large retail company, and i'm learning and gaining expertise in development and bi solutions."
how would you describe opisoft?
"it's a professional company and a leader in its field. the most significant feature is the winning bunch of unique people, which i think separates it from other companies in the field. the interaction among the employees is encouraging and the atmosphere is really pleasant. employees get an immediate answer to every question and very high-level professional support. also, the management at opisoft listens to the employees and stays in direct contact. that's how i entered my current project, which contains technological aspects, after telling them about my need to work in implementation and to specialize in bi."
do you feel you've found your professional calling at opisoft?
"i'm very happy with the job and with the company. the variety at opisoft is enormous in terms of the contents and the nature of the projects. as soon as i came here i dove in and took up the job very quickly, and today i can see the fruits of those projects, which is really gratifying. i definitely see myself working here for several years and advancing, and there are several directions for me to develop in."
what advice can you offer jobseekers?
"i recommend they consult with someone involved in human resources when they sit down to write their resume, and focus on a certain area in order to place emphasis on qualities that are headed toward a certain profession. the most important thing is not to give up. in my opinion the range of job offerings today is very extensive, so there's reason to be optimistic."

for more success stories, click on employment articles

looking for work? go to search
looking for employees? go to contact
join everybody's success at jobnet!


for the hebrew article